New titles for 2015 from Wrd:
More good reads from WritersReadersDirect due out soon include darkly comic romps through a bizarre literary underworld (Foul Papers); the delusions of a drunken playwright (Murder with Imagination) and the adjustments of a Greek god in culture shock (The Odd Aussie)—all filled with deeply dysfunctional characters and erratic plotlines, so oddly plausible that they are easy to enjoy.
The new titles from Wrd also bring a delightfully light-hearted and heart-warming dip into the dodgy doings of a wartime childhood (In the War) and an insightful interchange between combustible characters with a life shaping experience in common (Final Round), in which new beginnings are set against a dramatic background of life ebbing away.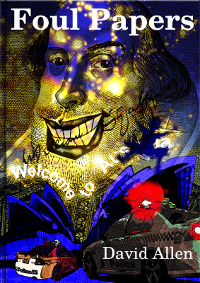 All new titles are published as eBook and print editions. Available soon from Wrd!
Other good reads from Wrd
WritersReadersDirect publishes recommended reading from Australian authors David Allen, Brian Kirby and Robert Lumsden and British writers Nigel Summerley and Susan Barrett. A varied mix of themes and genre, these featured novels are united by the professionalism of the writing and the high production values of their presentation. Each is an engaging read in its own right. Collectively they establish WritersReadersDirect as a quality imprint among independent eBook publishers.
Fourplay
by Brian Kirby
Friday's game of golf has become important to Bill as the highlight of what is fast becoming a rather drab existence and to Brendon as one of the few things with the power to get him away from an ever-increasing workload. To protect the unique character of their game, rules have been added to those established by the Royal and Ancient with sledging encouraged and side-bets strictly regulated.
When by chance, the twosome becomes a foursome then the carefully maintained order of things starts to change and both B1 and B2 find themselves, perhaps unwillingly, involved in an affair that really doesn't concern them and through this, forced to re-examine their own previously ordered lives.
If you are a golfer then you'll enjoy it but even if you can't tell a hook from a hooker, maybe the humour and developing relationships will make it a worthwhile read.
ISBN: 978-1-909047-10-5
ISBN: 978-1-909047-11-2
View Fourplay in Barnes & Noble NOOK store
About the Author
Born in London, Brian's education culminated with five years at Hornsey College of Art. Early years (this was the silly sixties) included an overland trip by London Taxi to the Far East and ultimately, Australia. With a US partner, he created a cartoon strip for the Sydney Sun Herald, the London Daily Sketch and ultimately the Chicago Tribune/New York News Syndicate.
He has worked as a designer and Creative Director in London, Sydney, Barbados and Perth. The years in Barbados were spent establishing a London-based design company but in that period he also became a member of the Barbados Arts Council, designer with the Barbados Dance Theatre and initiated design classes at the University of the West Indies.
As a painter, Brian has had seven one-man exhibitions and been included in group shows that include the Biennales of Sao Paulo (Brazil) and Medellin (Columbia).
In 1984 he became Senior Lecturer at the West Australian School of Art, Design and Media (Perth), working in graphics and film & television and in this latter role, began to write. A novel (Up The City!), a magazine column and a number of film treatments (all unsuccessful) led to The Personal Column, its follow-up, Classifieds and now Fourplay.
He played first division football in Barbados and Australia and was technical advisor to the award-winning TV series Kicking Around.
He lives and works in Western Australia with his wife of 49 years, his two children and three grandchildren.
Kabaka Lear
by David Allen
About the book
For an ageing Tom Adams a chance encounter re-awakens memories of the 1960s and his time as a teacher in Uganda, East Africa. His involvement in the local expatriate theatre scene with its clashing egos and hot-house sexual shenanigans leads him, a naïve and unwilling participant, into the equally murky world of Ugandan politics and an outcome of betrayal and personal compromise that he realises, even though forty years have now passed, he must face up to and resolve.
ISBN: 978-1-909047-04-4
ISBN 978-1-909047-05-1
View Kabaka Lear in iBookstore
View Kabaka Lear in Barnes & Noble NOOK store
View Kabaka Lear in Kobo store
View Kabaka Lear Kindle edition
About the author
David Allen was born in Birmingham, England in 1936 and has an Honours degree in English. He taught in Uganda, East Africa between 1966 and 1970 and migrated to Australia in 1972 where he lectured in drama, worked as a theatre director and wrote extensively for the stage, radio and television. His plays have been produced all over Australia and in the UK, Germany, Holland, Ireland and the USA. They include Cheapside, Gone With Hardy, Pommies, Modest Expectations and Upside Down at the Bottom of the World. Television credits range from Neighbours, Flying Doctors and Rafferty's Rules to Snowy, GP and Blue Heelers. David has taught at the Australian Film, Television and Radio School, won two Writers Guild 'Awgies' and the Victorian Premier's prize for drama.
As well as the novel Kabaka Lear David has written Foul Papers, a satirical novel set in Sydney as it gears up for the Millennium Olympics, and In the War, a tale of growing up in the English Midlands during the Second World War.
He is married, lives in Sydney and has two daughters and four granddaughters.
Sojourn
by Robert Lumsden
About the book
A man summoned to an Asian island resort is drawn more completely with each conversation, each incident, into a collision course with the woman behind the call. Two fundamentally vigilant people fashion a conclusion for themselves neither would have chosen and neither seems able to avoid.
The setting is Penang, circa 1990, before the beginning of the southwest monsoon season.
ISBN: 978-1-909047-08-2
ISBN 978-1-909047-09-9
View Sojourn in Barnes & Noble NOOK store
About the Author
Robert Lumsden began life in Melbourne, Australia and his trajectory so far has brought him to periods of residence in England, where he took a B.A. and M.A. at the University of Sussex and a Ph.D. at the University of East Anglia, Saudi Arabia, and Singapore, where he lectured in English at the National University of Singapore and the National Institute of Education. He is especially interested in arguments that don't hold water and perceptions that indicate how extraordinary the ordinary may be.
He currently lives north of Adelaide in South Australia, writing fiction and poetry and researching a book on aesthetics.
Like a Flower
by Nigel Summerley
About the book
Like A Flower is a novel about life, death, love and gardening.
Its protagonists are an ordinary couple drawn, against their will, into an extraordinary story. It begins with the unearthing of a terrible secret. And this leads them to become reluctant detectives racing against the police to find a perverted killer. They embark on a journey through broken relationships, bitter memories, strange passions and bizarre sexual adventures—all bound together by one common thread: the history of their beloved garden.
And if they fail to trap the murderer, they stand to lose not only their garden and the labours of their love, but also their lives...
ISBN: 978-1-909047-06-8
ISBN 978-1-909047-07-5
View Like a Flower in iBookstore
View Like a Flower in Barnes & Noble NOOK store
View Like a Flower in Kobo store
View Like a Flower Kindle edition
About the Author
Nigel Summerley is a successful journalist whose feature articles have appeared in The Sunday Times, The Times, The Independent, The Daily Telegraph, The Sunday Telegraph, the Daily Express, the Daily Mirror, the London Evening Standard, the Bristol Evening Post, the Northamptonshire Evening Telegraph and the Western Daily Press. He has also contributed to a range of magazines in the UK and abroad.
Nigel wrote a series of short stories, published in magazines in the 1990s, and a guide to alternative and complementary therapies, The Best Of Health, published in 2002. He has also worked as a lyricist in a variety of musical projects and he currently writes a blog called Words and Music.
Take Care Dear
by Susan Barrett
About the book
Malpractice and mayhem—the events of a single day in a residential home for the elderly are described with humour and compassion in this pacey novel.
Edith was a child when Stoneycrest was her family home. Now she's an alert and watchful resident. She hatches a plot to expose the malpractice she sees going on around her, aided and abetted by Len, another resident. Spiro, the owner, has his own plans for Stoneycrest, as does his love on the side, Marion, the manager of the home. Tass, his niece, is more straightforward in her aims. She just wants loads of cash from Spiro.
The day unfolds in surprising ways, as the characters pursue their own ends with varying degrees of calamity and success.
ISBN 978-1-909047-02-0
ISBN 978-1-909047-03-7
View Take Care Dear in iBookstore
View Take Care Dear in Barnes & Noble NOOK store
View Take Care Dear in Kobo store
View Take Care Dear Kindle edition
About the Author
Susan Barrett spent her childhood in Devon and at school in Bath. She worked as a copywriter in London before leaving to live in Greece where she began writing fiction. She has had seven novels published in hardback and paperback in the UK and USA. Other work includes travel writing, television drama, and wildlife and children's books illustrated by her husband Peter. She has an MA in Creative Writing from Bath Spa University College. From 2009-11, she dreamt up and established WritersReadersDirect. She has now returned to writing full-time, while maintaining links with WRD as an author's mentor.
Defend Your Territory
by Anthony Terence
About the book
2010, northern England is suffering from unemployment and socio-economic problems. Families are losing jobs, homes and spirit.
Oliver Brubeck, a single 40-year old jack-of-all-trades, is an ordinary man approaching a mid-life crisis, without much in fact to have a crisis about. Self-identity and how he is perceived becomes the crisis, only for him to discover that life and how you accept its challenges is in fact what defines you.
Family, friends, neighbours and bullish acquaintances put demands on Oliver but despite the adversity he is faced with—death, betrayal, loneliness and ailing youth, he finds solace in the humour and solidarity of the residents of Mammoth Avenue with whom he becomes attached and forever entwined.
ISBN: 978-1-909047-12-9
ISBN: 978-1-909047-13-6
View Defend Your Territory in iBookstore
View Defend Your Territory in Kobo store
View Defend Your Territory in Sony store
View Defend Your Territory in W.H. Smith eBook store
Defend Your Territory Goodreads page
About the Author
Anthony Terence was born in Liverpool, England in 1988. Having originally studied Geography at the University of Manchester, Anthony's love of writing took him in a different direction with the creation of his debut novel Defend Your Territory. He has written and produced two radio shows about the spiritual music of Johnny Cash and Bob Dylan. Anthony enjoys exploring places, differing cultures and fascinating landscapes.
Wrd: WritersReadersDirect
WritersReadersDirect is a selective, professional eBook publisher that was established in order to bring quality assured content to the evolving digital publications market. Magus Digital is building on the original proposition by adding expertise in eBook production and digital marketing to provide differentiation in the marketplace and enhance the user-experience of the product.
WritersReadersDirect is based on collaborative commercial principles. By adding value to good content it aims to promote new writers, help established authors extend their audiences, provide readers with reliable choices and help them discover new material.
Note for editors:
For further information email: soluspress@magusdigital.com
WritersReadersDirect is an imprint of Magus Digital.
All WritersReadersDirect eBooks are published in ePUB format for iOS and Android devices (iPad, Kobo, NOOK, Google Nexus etc.), which are available from Apple's iBookstore, Kobo, Barnes & Noble's NOOK store, W.H. Smith and many other independent eBook stores (including Foyles, Blackwells and Tesco eBooks); and as an Amazon file format for the Kindle, Kindle Fire and Kindle Fire HD. (These are separate editions and have different ISBNs.)
Last updated: 21st December 2014
#amreading #eBook #goodreads #amwriting #freebooks #SportsFiction #ePUB #magicalrealism #fantasy